Looking for some new social media content ideas to liven up your November posts? We've got you covered. From funny memes to the most important holidays, we've curated a list of 30 content ideas that will help you connect with your audience and drive traffic to your website. So go ahead and steal our ideas for the month – we won't mind!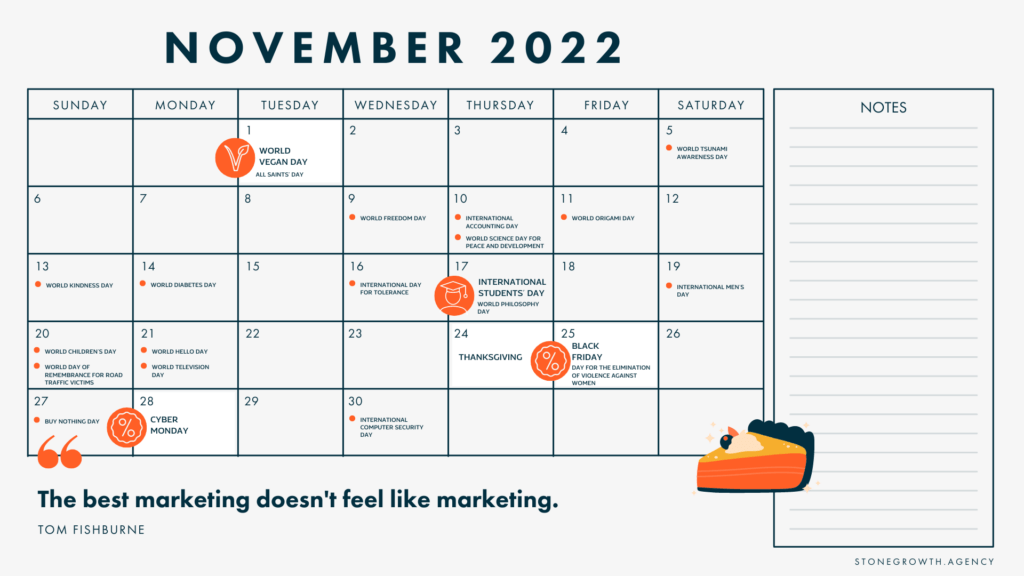 November 2022 Social Media Content Ideas for each day of the month
Post your favorite vegan recipe or product for World Vegan Day #WorldVeganDay.
Share a discount code that's only available on social media for a limited amount of time.
Post a map representing the areas you serve and the communities you provide your services to.
Share an anniversary about your business. For example, when the idea came to you, the date you registered your business, etc. #anniversary #celebration.
Post a product review from a happy customer.
Share a before and after post about something in your office throughout your workday.
Post an early 2022 Holiday Gift Guide, and include your product/service as one of the gifts!
Promote a gift voucher for your business that someone can gift to a loved one.
Share a testimonial from a company or business partner you worked with. This showcases your professionalism.
Post an image of your intern(s) or start a job hunt for one for International Intern's Day #InternsDay.
Origami Day – share a fun insight into the art form.
Post a sneak peek of a project or product you are working on.
Share kind words about your colleagues, partners, or customers for World Kindness Day #WKD.
Post a custom meme for Meme Monday about your company's product or services #MemeMonday.
Share something that has changed between your work now and back when you started #TransformationTuesday.
Share an account you recommend followers to follow.
Share a product offer only valid for students to celebrate International Student's Day #StudentsDay.
Create a Live webinar event and ask people to sign up.
Celebrate the men in your workplace or famous men throughout the years on International Men's Day #MensDay
Share a behind-the-scenes photo of your office.
Share your favorite TV show/program or ask for recommendations on World Television Day #TVDay. If TV is not your thing, you can also celebrate World Hello Day and ask your followers how many languages they can say hello in.
Post about the World Cup – show support for your local team or a team representing an area most of your clients are from.
It's Humpday! Post something you love and hate about Wednesdays.
Wish your American followers a Happy Thanksgiving, and include a few things you are grateful for. You can also post a teaser of your Black Friday deals or share some offers exclusively on social media.
Post your special offers and sales for #BlackFridaySales #BlackFriday2022
Post about a freebie or ebook you have just created for your followers.
Share a few things you love about the holidays.
Post your special offers for #CyberMonday.
Post about what Tuesdays are like in your office. Feature one thing that is always part of your Tuesday routine.
Post an image of a beard or mustache in honor of Movember if a member of your team has participated #Movember
We hope you found these social media content ideas helpful. If you need more content ideas, have a look at our shop. We're always coming up with new and innovative ways to help you get the most out of your social media marketing. Stay tuned for more great social media content ideas in the future, and remember to trust the process and have fun!