It's 24 days until Christmas, and to make the wait more fun, we're gonna share a funny/awesome/tearjerking or just plain weird Christmas campaign until Christmas Day!
1. Mariah Menu x McDonald's
All I want for Christmas…. is a cheeseburger!
Let's kick things off with this year's Mcdonald's x Mariah Carey's Mariah Menu! In addition to other famous names like BTS and Sweetie, Carey's Mariah Menu is McDonald's next in line in special menu collaborations with celebs. "All I want for Christmas is all of you to try the Mariah Menu at McDonald's," says Carey in the ad.
In the spirit of the holiday season, the Grammy-winning singer's menu offers 12 days of different free goodies for customers who spend $1 or more on the McDonald's app.
Why do we like this? All I Want For Christmas is a staple of Christmas, just like Home Alone and gingerbread cookies. Harnessing that Christmas nostalgia is a no-brainer. It's also pretty impossible to go wrong when you're handing out free food.
2. Etsy – "Give more than a gift"
We have arrived at day 2 of our ADvent calendar! Etsy is known for its tearjerking Christmas ads, but this year they've outdone themselves.
Etsy's ads are less about the products they sell and more about the connections we make. In one 30-second ad, a son buys his underrepresented father a meaningful gift, and another shows the kindness of strangers.
Why do we love these?
We think that these represent Etsy's brand beautifully because just like their products are mostly hand-made and unique, so are the stories in these ads.
Alyssa Georg, creative director of 72andSunny, said: "We hope these spots touch people and inspire them to see goodness in the world. After these past two years, we need more of it. Working alongside Etsy, we crafted stories built on real and unique experiences that so many of us can relate to. What better time than the holiday season to highlight these often untold stories in an intimate and authentic way."
3. Sainsbury – "The big night"
Today's ad is from Sainsbury's 2018 Christmas campaign. It features the cutest eight-year-old star singing her heart out for her mum.
First of all, it's really damn cute, and secondly, who doesn't love the one-hit-wonder " You Get What You Give" by New Radicals?
If you're wondering why this ad feels familiar with its grandiose stage performance, it's because it was directed by none other than Michael Gracey, the director of The Greatest Showman.
4. M&S – "Christmas with love"
20 days until Christmas!
Today's advert is from M&S's 2016 Christmas campaign. In a refreshing twist instead on Santa, the protagonist in this one is MS. Claus. It tells the story of Jake, who's spent the last year squabbling with his sister Anna. As Christmas approaches, Jake decides he wants to do something special for her. So he writes to Mrs Claus who helps him give the perfect present with love to Anna.
Did we mention that Ms.Claus is completely badass? Instead of an old fashioned sleigh, she has her own flaming red helicopter and poor old Santa hasn't a clue that he's not the only one spreading joy.
And in case you're wondering why everything looks so great visually, the ad was directed by King's Speech director Tom Hooper.
5. Amazon Prime – "An unlikely friendship" 
Day 5 of our #ADventcalendar!
Today's ad comes from Amazon Prime Video's first European Christmas campaign and features a truly unlikely friendship between a grumpy zoo-keeper and a hyena. Cuteness alert!
Since Lion King has scarred us all for life, it's hard to find the hyena likable at first, but after a while in this ad's magical world, we're considering adopting one. The ad's key message is that "every smile tells a story," and it's hard not to cheer for this odd couple's story.
We think this is a solid first ad from Amazon Prime and can't wait for what they come up with next year!
6. KFC – "Bucket Mittens"
Day 6 of our #ADventcalendar has arrived!
There are cute ads, thought-provoking ads, tearjerkers, and then there's KFC, who came out with their free Finger-Lickin' Chicken Mitten Bucket Hugger this year. KFC added the free bucket sweaters to web or app orders for only three days at the beginning of November.
Undoubtedly, you, too, have been faced with heading out to your friend's house with a bucket, only to have your non-chicken fingers (and those, too!) freeze off. Not with this bucket mitten. The campaign was so popular that the mittens were almost instantly sold out.
Pretty sure in a decade, these will be highly sought-after collector's items. Would you wear one of those in public, though?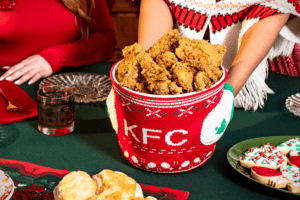 IKEA -"Let's relax"
Already a week of the best Xmas ads in our #ADventcalendar!
We all have that one friend that HAS to take a picture of their plate before eating, right?
IKEA's 2016 ad imagines what life would have been like if people in the 17th century had felt the need to record their plate of food and get some "likes" before they ate it. In other words, before Insta was invented. The ad encourages people to rediscover the simple joy of cooking and spending time with each other. "It's a meal. Not a competition," IKEA reminds us. This one's not a Christmas ad, but we wanted to include it anyway.
We love this ad's wholesome message and great cinematography. The attention to detail is impressive. Did you notice the painting hanging on the modern kitchen's wall?
8. Oreo – "First Christmas"
Welcome to day 8 of the #ADventcalendar!  
Let's jump back to 2019 with today's ad from Oreo. In their most extensive Christmas campaign up to date back then, Oreo featured an elf stopping by a convenience store to pick up cookies and milk for Santa. Because it's his first day at the job, he mistakenly buys Fanta instead of milk and has no idea what dunking is. Lucky for him, the store's cashier quickly shows him the ropes and is in return asked to join Santa's Christmas crew. The hashtag #OREOforSanta reinforces how Oreos are Santa's cookie of choice.
This ad was supported heavily on social media and outdoor ads with recipes and other fun content. Oreo even sold a 70-dollar ugly Christmas sweater on their web.
Why does this ad work? It's simple, heartful, and has a touch of fun to it. With its upbeat music and Santa parked outside a convenience store in his sleigh, what else does a good Christmas ad need?
9. Aldi – "Kevin the carrot"
Day 9 of the #ADventcalendar is here!
Now let us ask you, how has a family of vegetables won over the hearts of every family in the UK? Blame Kevin the Carrot!
Kevin made his first television appearance in 2016 and has gained popularity ever since. In this ad from 2017, he goes on a train, meets and falls in love with a female carrot named Katie, and eventually saves her life from being hit with a pea. There are plays on words, Titanic references and Kevin is just very irresistibly cute.
No wonder there is now a whole range of Kevin the Carrot plush toys sold in Aldi's. The proceeds of those go to Aldi's charity partner, Teenage Cancer Trust. That's marketing done right! Make sure to also check out this year's ad, inspired by Charles Dickens (or as the pun-masters of Aldi's called him – Charles Chickens .
10. Mercedes – "Picture of santa"
Only two weeks until Christmas, and we've arrived at day 10 of the #ADventcalendar! We've been saving this special treat!
Mercedes' Christmas campaigns bring the brand image alive with classy and often humorous ads that successfully evoke emotions and promote sharing. This one called "Picture of Santa" from their 2019 Winter Event is no exception.
In the ad, we witness a little boy take an unfortunate photo of Santa, and regardless of Santa's pleading to delete it in exchange for a variety of fabulous toys, the boy only wants one thing – his sleigh. At the end of the ad, we see the boy in his brand new Benz, with his parents agreeing that he has indeed "been good this year."
Mercedes has always been good at using humor, and even though their brand is very luxurious, they are not afraid to divert from the obvious "beautiful people driving a car" route.
11. Temptations – "Keep them busy"
The 11th day of our #ADventcalendar features this furry ad from the cat treats brand Temptations.
Any cat owners here? We bet you can relate to this one! This ad creates the perfect crime for a room full of raucous felines. In the most Christmassy room, there are trees with lights, trains, and even a turkey dinner – all to be completely destroyed by the cats. It's a true Christmas massacre.
Suddenly, they hear the distinct sound of a treat bag and run out of the room. As we observe the carnage, we are told to "keep them busy this holiday season." No doubt with Temptations cat treats.
So, fellow cat-owners, this year, instead of hanging your Christmas tree from the ceiling, maybe give the treats a try?
12. Air Canada – "Gift of home"
It's day 12 of our #ADentcalendar where we take a look at some of the most clever, heartful, and tear-jerking Christmas ads.
Air Canada's 2014 #ACGiftofHome was a Christmas social media campaign that pulled on the heartstrings of everyone living abroad. The campaign focused mainly on social media and sure enough, it generated a lot of UGC.
Canadians who live in London gathered at a bar called the Maple Leaf and were interviewed on reasons why they aren't going back home for the holidays. Most admitted they couldn't afford the tickets. That's when Air Canada pilots entered and handed everyone in the pub a free roundtrip ticket home.
Altogether, 200 ex-pats found out that they could be home for the holidays. People were encouraged to post their own stories with the #ACGiftofHome hashtag.
It was an immensely successful UGC marketing strategy that helped Air Canada in brand building, display social proof, increase engagement, and accelerate revenue. Most importantly, this campaign video lets us all in on the feeling of joy and hope that the company brought these homesick Canadians.
13. Heinz UK TikTok Ad
Hello, day 13 of our #ADventcalendar!
Today, we are venturing out from real ad territory to TikTok. Most of you have probably seen this year's John Lewis ad titled "Unexpected Guest," but have you seen the spin-offs? Supermarket chain Iceland created theirs and switched the alien's head to a frozen potato snack. Now Heinz UK has created their spoof by hilariously reenacting the ad to advertise their new canned Christmas Dinner soup.
10/10 execution and overall praise for Heinz on how they're showing real people and recipes on their TikTok page.
The ad's caption reads: We spent nothing on this Christmas ad. Enjoy #ChristmasAd #Christmas #FakeAd #Christmas2021. Heinz's fake ad has gotten over 1.5 million views, 30k likes, and 550 comments on TikTok. Not bad, considering they spent nothing on creating it. This is an excellent example of how consumers and brands are moving away from big budgets and overly designed/photoshopped content. What always works, though, is humor.
What do you think?
14. Allegro Poland – "English for beginners"
10 days to go with our #ADventcalendar and today's ad from the Polish online e-commerce store @allegropl is pure joy.
This masterpiece of a commercial from 2016 features a grandpa (and his adorable dog) learning English. They are guided through this challenging task with tapes, post-it notes, and action movies. It's warm, hilarious, showcases the brand perfectly, and is probably one of the best European commercials ever made. If you're not crying by the end, you don't have a heart.
15. Tesco – "Nothing stopping us"
Day 15, and we've arrived at this year's Tesco Christmas campaign!
The ad draws inspiration from the pandemic and its impact on last year's holiday season. It features Tesco customers determined to enjoy a fun-filled Christmas with their friends and family after all of the restrictions in 2020.
There are fires and bribes, and as Queen's "Don't Stop Me Now" is giving us an earworm for days, everyone's having a merry time. Doubts of Santa getting quarantined arise, but no worries, he's fully vaxxed!
As you might have guessed, this ad has supposedly received over 3000 complaints and is probably one of the most controversial ads this year due to its touchy subject. We're going to look further from this and give Tesco a pat on the back for their fresh perspective on an otherwise played-out Christmas ad scene. As @tescofood puts it: "After last year, we're determined to make it a good one. This Christmas, #NothingsStoppingUs."
16. Supermarket Iceland – "Rang-tan in my bedroom"
It's December 16, and we're on our 16th day of the #ADventcalendar. Each day we will share a noteworthy Christmas campaign for inspiration.
Today's ad is from supermarket Iceland and was a big sensation back in 2018. This topic is also very close to heart for us.
The ad tells the story of Rang-tan, an orangutan that has lost his home due to palm oil's impact on the rainforest. Produced initially by Passion Animation Studios and Mother for environmental charity Greenpeace, the film was later acquired by the supermarket to align with its social messaging.
Rang-tan was banned from being shown on TV in the UK. They aimed to help spread the word about destructive palm oil. However, it was rejected by Clearcast, the body that approves TV ads in the UK, because of Greenpeace's 'political aims.'
This decision provoked a storm of controversy, and the resulting publicity helped the film reach more than 65 million online views. It was viewed over 3 million times within 24 hours of going viral. Today Rang-tan is even turned into a book that you can get on Amazon to teach your children all about keeping our rainforests safe.
This ad is an excellent example of how corporations can help spread the word about critical issues. And if they can talk the talk, they should walk the walk. Iceland dropped or substituted all of its branded products containing palm oil. One of which was their mince-pie shown in the ad. Since the campaign launched, sales of mince pies rose by 11 percent, and so did the talkability score and consideration of the brand.
Can we please devote all Christmas ads to these topics?
17. Very – "Very best excuse"
Day 17 of our #ADventcalendar and today's ad is from this year's campaign of retailer Very.
We've picked Very's ad campaign 'It's the Very Best Excuse' for today's installment. It encourages us to celebrate the things we can only get away with at Christmas – cozily drinking gin in your PJs in front of the TV while binging on period dramas, dressing up babies in festive costumes, or buying a console for a 9-month old – set to the tune of Holly Jolly Christmas sung by carolers.
Don't @ us cause it's Christmas for getting this tune stuck in your head, but it's indeed Very
catchy and features just the right amount of humor.
18. Microsoft – "Holiday magic"
There is only a week left in our #ADventcalendar and today's ad comes from technology giant Microsoft.
Microsoft cleverly blends tradition with technology in their 2019 holiday ad for their Translator. We witness their innovation come to life through the spirit and imagination of a little girl, Lucy, who watches her mother on a call with Japanese business people while the Microsoft Translator translates their speech into English.
The curious six-year-old then has a revelation – she grabs the tablet and goes outside to confront a couple of reindeer. With the help of the Translator, Lucy asks them a bunch of Christmas-themed questions no doubt on every child's mind – how do they fly, what does Santa do in the summer, what's the sleigh made out of?
The ad ends with a text-over stating: "Happy Holidays in 60+ languages. Reindeer isn't one of them. Yet." We love it because it's imaginative and fun.
19. SodaStream –  "The small things"
We have arrived at day 19 of the #ADventcalendar featuring the best, the funniest, and the most tearjerking Christmas ads from recent years.
This hilarious ad from SodaStream features Snoop Dogg and a trippy sea turtle. Snoop, aka Calvin Cordozar Broadus Jr, also enjoys a bit of baking, singing, and dinner with his "family" before enjoying a drink of fizzy water with his aquatic friend.
The ad from 2020 hoped to inspire people to celebrate the small things and raise awareness of how the tiniest of changes can help save the planet. SodaStream surveyed customers, and out of 2000 people questioned, eight in 10 believe everyone can positively impact the environment by making small tweaks to their lifestyle.
We love the message of this ad, and it's nice to see that companies are using their marketing dollars to bring these kinds of topics to light.
Even if SodaStream isn't your thing, getting coffee or water with a reusable bottle is always the best choice.
20. Google Home – "Home alone again"
Day 20 of the #ADventcalendar and we have an ad that will pull on your heart's nostalgia strings.
This ad for Google Home devices features Macaulay Culkin, who's back as Kevin and as the title of the ad states, home alone again. Why not Google Home Alone, though? Maybe it was too obvious, but it feels like a missed opportunity.
Anyway, Kevin is at his old house, aka battlefield again, but this time he's armed with a more modern Google-powered setup. This nostalgia-filled ad showcases all of our favorite moments from the original Home Alone movie as we watch Culkin fulfill "Operation Kevin."
Nostalgia is one of the strongest emotions, and this ad creates a lot of it. Well done, Google! We'll be waiting for a similar one but with Bruce Willis and Die Hard. 
Coca-Cola – "The letter"
It's day 21 of the #ADventcalendar, and we're bringing out the big guns!
Today's ad is from Coca-Cola's last year's campaign, and it makes a simple point that the best gift you can give is time spent together with loved ones.
In this cinematic masterpiece, a loving father embarks on an epic journey to the North Pole to make his daughter's Christmas wish come true. Wondering why it looks SOOOO good? Oscar-winning filmmaker Taika Waititi directed it.
There's Santa, the Coca-Cola truck, and I guess someone chopping onions close by because there are tears in our eyes. Hopefully, this ad inspires you to spend less time shopping and more with your family. As the title reads, "This Christmas, give something only you can give."
22. Disney – "New Stepdad"
Only two more days left of our #ADventcalendar and we're moving on to the créme de la créme!
Today's ad is more like a short movie and another installment into Disney's unique and heartwarming Christmas spots.
"The Stepdad" follows Nicole, the granddaughter from Disney's last year's ad, who is now all grown up. We step into the lives of her and her two adorable children, Max and Ella, as their new stepdad Mike moves in. At the heart of the story is a very special item – a precious storybook belonging to Max from his birth father. The book celebrates the power of storytelling and how it can deepen family bonds; as the family is delighting in Disney storytelling's magic, beautiful animation springs off the pages, igniting the true spirit of Christmas. Head over to Youtube to watch the clip.
In addition to this ad's beautiful story, Disney gave support worth more than $2m to its long-standing charity partner Make-A-Wish International celebrating the 'From Our Family To Yours' campaign. With ads this great and donations this generous, we can almost forget that Disney's out for our money.
23. Doc Morris – "Matters of the Heart"
Probably the cutest Christmas ad ever made?
Only one more day left in our #ADventcalendar! We suggest you grab a box of tissues because it's gonna feel like someone's cutting onions in your house after watching this one!
Doc Morris, a Dutch pharmaceutical company, created this gem of an ad last year. It's called "Matters of the Heart" and features a lonely old man reminiscing on old family photos. In a Rockyesque montage, we witness him find a kettlebell weight and start a rigorous workout routine. While his nosy neighbors are surprised at this newfound fitness hobby, we find out at the end of the video that it was all for a much bigger cause than building a 6-pack. Pass the tissues, please!
This ad went viral immediately after it was released. On YouTube alone, it got over 7 million views within a week of being uploaded. A fun fact for our Estonian friends is that it features many familiar faces.
24. John Lewis – "Excitable Edgar"
There you have it! 24 days of awesome ads are over and we're excited to present the last one!
Raise your hand if seeing a John Lewis Christmas ad awakens the Christmas spirit in you? We thought so! Their (and Waitrose's) 2019 Christmas ad features an excitable young dragon called Edgar, who derails a village's festivities with his fiery breath.
In his excitement for the merry season, Edgar unintentionally melts a snowman, dissolves an ice rink, and burns down a Christmas tree. But he doesn't mean to and he's absolutely adorable!
The retailers declined to disclose the cost of the ad, but we're guessing this kind of production didn't come cheap.
It was filmed in Budapest with around 100 people cast as extras and is set to REO Speedwagon's Can't Fight This Feeling by Dan Smith.
Enjoy and feel free to send us your favorite ads that didn't make it on this list!