Things are changing fast on social media. Here are the most recent updates on Instagram that you should know about to stay in the loop!
1. Instagram profile on a website
First of all, you can now promote your Instagram presence outside the app, with a new option to embed a mini version of your Instagram profile on third-party sites. You'll be able to link to an Instagram profile directly within a website. Currently available to US users, but hopefully soon to everybody.
2. Delete a photo from a carousel
The most popular recent update is that you can now delete a photo from an Instagram carousel. This will only work with a post with at least three images. The fun fact about this is that you can also use this feature to rearrange your carousel posts. Want to know how?
Decide which slide you want as the cover picture and delete any media before it. Your carousel must have at least two photos at all times, so keep that in mind! After saving your changes, go to Settings, then to Account, and then to Recently Deleted. Restore your photos in the order you want them to show up, as each image will appear at the end of the carousel.
Covering ✌️ this week:
- Carousel Deletion (finally!)
- Rage Shake

Did you know about these 💎s? Any other features you'd like me to cover? Let me know 👇 pic.twitter.com/Yx0q4UGFfb

— Adam Mosseri (@mosseri) November 17, 2021
3. Chronological feed
One of the most exciting news is that the Instagram feed will go back to chronological order. Adam Mosseri, head of Instagram, recently said that the company will bring back the chronological feed. They are currently testing feed changes for people to have more control over what they see. These tests include an ability to switch between three different views on your home screen (two of which would give you the option to see posts in chronological order): 
Sounds awesome, doesn't it?
4. 60-second stories
There has also been word going around that Instagram will soon have 60-second stories instead of breaking them up into 15-second segments. Instagram is currently running tests with a small group of users. It sounds like a dream to us to share longer stories!
5. Live Badges
Probably the most exciting news for creators is that Live Badges, which enable viewers to make donations to creators, are now enabled for all eligible creators. This update will let more creators monetize their Instagram Lives, encouraging more broadcasting to generate more engagement.
6. Reels replies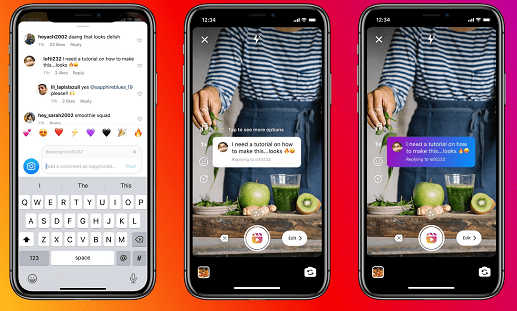 Another significant update is that Instagram added Reels replies. When you reply to a comment on a Reels post, you can also tap on the blue reels button to create a video reply, which will appear as a sticker that you record your video response to.
7. Rearrangeing feed posts
Instagram is testing many new options, one of them being the ability to rearrange your profile photo grid, regardless of when you posted the content. Adam Mosseri also recently pointed to a possible "pinned post" option for profiles. Both options would give users more freedom on what they want to showcase to visitors.
8. Profile status
And last but not least, Instagram is also testing a "profile status" option which enables you to set a status notification on your profile. It will remain active for 24 hours unless you change it. It will be displayed in your IG Direct messaging tab, beneath your username, and also on your profile. It's a great way to see what your connections are doing.