Instagram is no longer just a platform where you can share photos of your adorable pets, incredible travel adventures, or aesthetic food compositions. Today, Instagram is one of the most powerful picture- and video-based social media platforms for businesses that aspire to improve their visibility and connect with users. Over the years, Instagram has undergone significant changes that have shaped the platform into more than photos and videos – it has developed into a strategic marketing tool. We have combined some benefits and an Instagram checklist into this post to make starting a piece of cake!
It's challenging to find someone who's not using Instagram daily. Statista revealed that Instagram has around 2 billion monthly users. Despite TikTok's rapid growth, Instagram is the preferred platform for younger clients.
In addition to staying up-to-date with their friends' activity, many marketers have discovered and successfully optimized Instagram as a key marketing channel for their business. Instagram suits companies that benefit from visual content, such as the fashion, culinary, and beauty industries. Meanwhile, it is not limited to just them, as with creative thinking and unique concepts, any business can succeed on the platform. Dare to try?
We created this checklist to help you ensure that you have the basics set for taking off to new heights!
Checklist:
A clear account name (@yourbusinessname)

Business or creator account

A good profile photo (at least 320 x 320 pixels)

Optimize your Instagram profile Bio and Description – who, what, why?

Link to your website or add a Linktree link

Create a mood board for your visual style (fonts, colors, etc.)

Add your email and/or phone number

Follow other businesses in your industry

Follow relevant hashtags

Create a content calendar with different post types and plan your Feed

Connect your profile to your other digital channels

Create Story Highlights and design the cover photos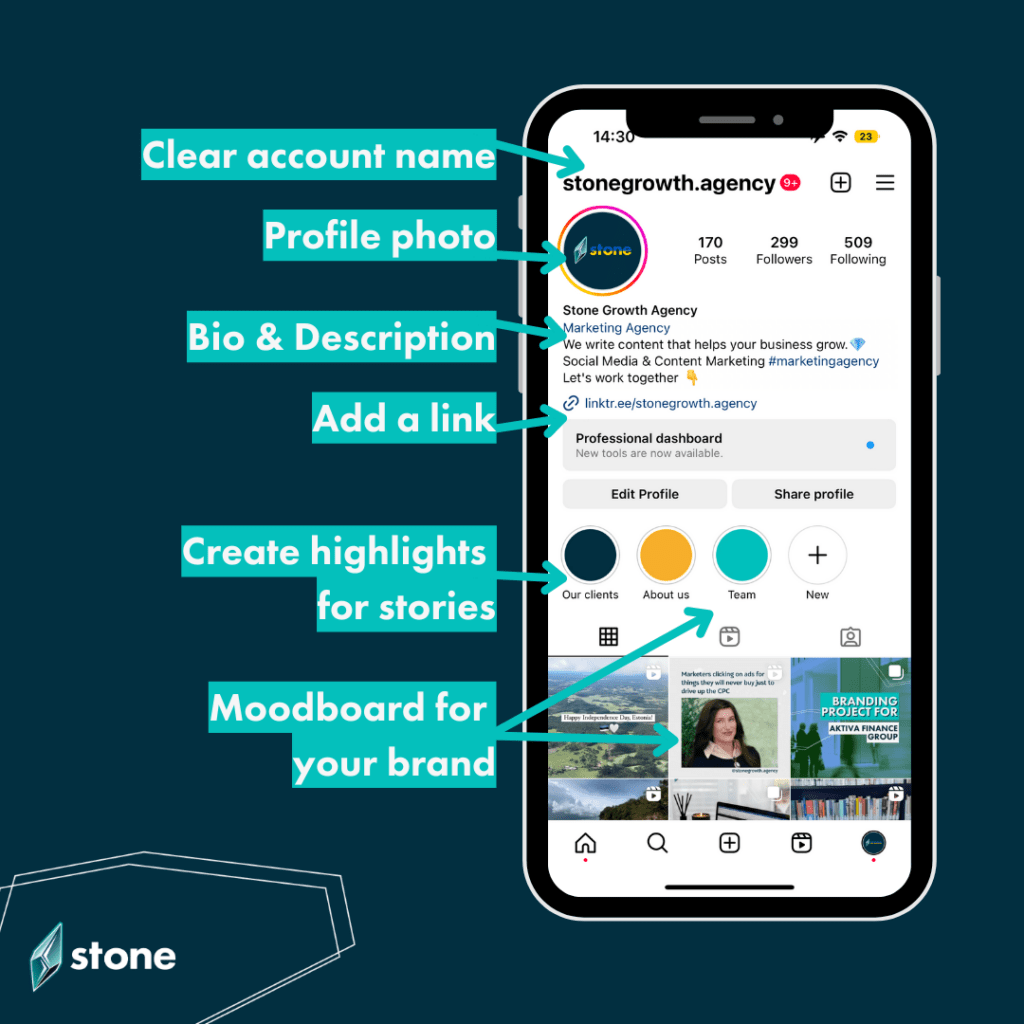 Once you have laid down the foundation of basics, it is time to tweak your account to catch the eyes of your target audience.
Variety of posts
Instagram offers variety like no other. When it comes to visual content, you can upload photos and videos, post temporary stories, create reels, combine stories into highlights, and hold live streams. There is undoubtedly something for everyone and every business. The key is to balance your content's diversity to regularly provide your followers with fresh content and attract even more followers. Don't be afraid to spread your wings and try something new!
Business Profile
If you manage a business's social media account, it is time to switch your regular profile to a Business Profile! The title might sound timid at first. However, the advantages you gain will surely beat that feeling. Having a Business Profile means being able to add advertisements, analyze audience insights through collected metrics and even sell your products directly on Instagram. In fact, these and many more features are designed to suit the aspirations of small businesses, so why should you limit the possibility of raising your brand awareness?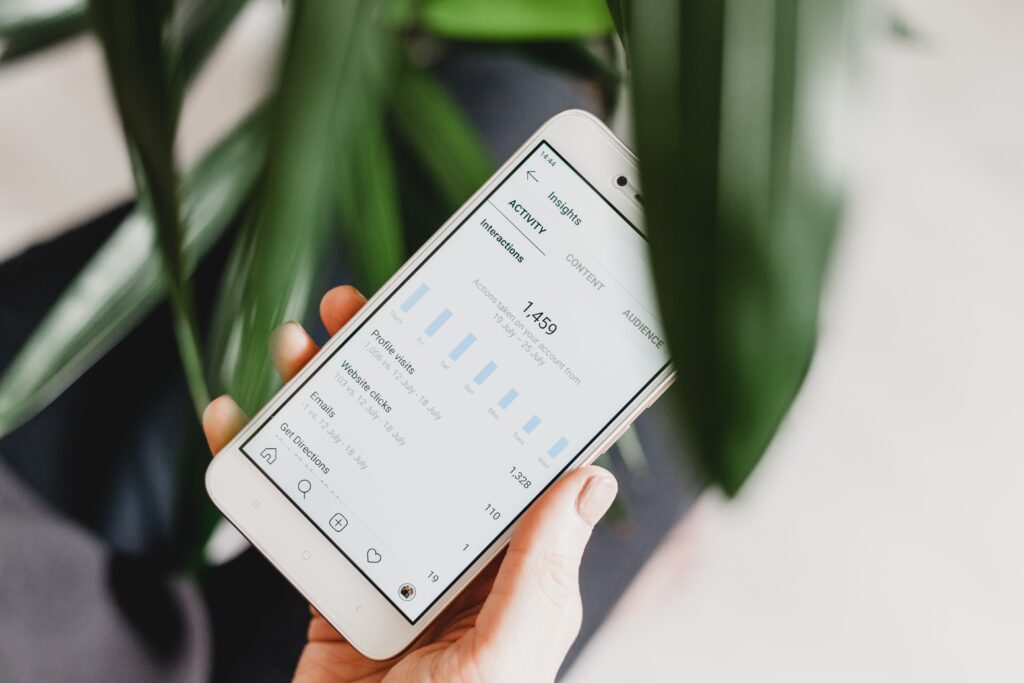 Engagement, engagement, engagement
As with many other social media platforms, you can like, comment and share posts on Instagram. Interact with your followers in the comment section or answer their questions through the direct message function. A close, trustworthy, and easygoing relationship with your followers can increase engagement and improve your reputation.
One feature even allows followers to share your post to their own story, which can remarkably increase your business's visibility. You can also ask your followers to interact with your stories. This requires less effort from your followers as they can simply tap to vote on a poll or type into a question box.
Know your brand
We've all seen it—an Instagram account whose feed looks like a museum filled with pieces from different artists from different centuries. We know that testing out a new filter or font every time is tempting. However, keeping a clear and united visual appearance on your account is essential to remain instantly recognizable to your audience and strengthen your brand's core. Your profile feed is the first place a potential follower looks into. After all, would you trust a brand that doesn't know what they are doing?
Stay active
This might seem as a given; nonetheless, gaining new followers and broadening your audience is tough without constantly putting in the effort and having a set plan. We recommend creating a content calendar to organize your posts and meet deadlines. If you don't feel like making one yourself, our online shop has the Ultimate Social Media Marketing Planner For 2023. Next to excellent time management skills, staying active also entails interaction between accounts. Find businesses to follow in your field, share your thoughts on their post, or connect with them through direct messages. This way, you can monitor your competitors while building a relevant network.
We hope we inspired you to learn more about Instagram and realize that adding it to your marketing strategy is worthwhile thanks to all its benefits.If you could use a helping hand on this journey, please get in touch with us!